Automotive
Gradual recovery of factory activity level in Ford Chicago Plant
Ford's Chicago Assembly Plant has shown a recovery in factory activity after cutting shifts in February.
After experiencing a sharp drop in factory activity at the beginning of February, the Ford Chicago Assembly Plant has started to return to levels seen in January.
German industrial intelligence provider Fygen.com observed the first drop of factory activity in the Ford Chicago Plant on 7th Feb 2022, compared to the week before (31st Jan). During this week Fygen recorded a 31% drop in factory activity. This refers to the level of the workforce inside the factory.
Ford then announced plans to idle some of its assembly plants in the week of Feb. 14. After very low activity during the week of 07.02.2022, a gradual recovery back to the level of January can be observed over the whole of February. This amounted to a 32% increase in factory activity.
Earlier in February, several major manufacturers in the US such as Ford Motor Co., Toyota Motor Corp. and General Motor (GM) announced cuts to shifts as a result of chip shortages.
Semiconductor chips are integral to the performance of modern automobiles and help perform functions such as power management, digital displays, and certain safety features. Around 15% of the global semiconductor market can be attributed to the automotive industry.
Jim Farley, CEO of Ford, has been quoted as saying that the chip shortage may continue in some form until 2023, while a report from the U.S. Department of Commerce has suggested that microchip demand will continue to exceed supply until at least summer 2022.
Various causes have been cited for the global shortage of chips, with the COVID-19 pandemic and the United States-China trade war being major contributors.
To closely track its real-time development, German industrial intelligence data provider Fygen.com offers an exclusive and comprehensive monitoring service on the ongoing chip shortage crisis.
Fygen.com declares that, despite aiming to deliver the most accurate and reliable data, it cannot be excluded that observations in the data might be caused or influenced by other external factors, and hence any inaccuracy.
Fygen.com is the world's leading data provider for factory observation. It helps its clients to monitor utilization rates and activity levels of potentially more than 3 million industrial sites globally.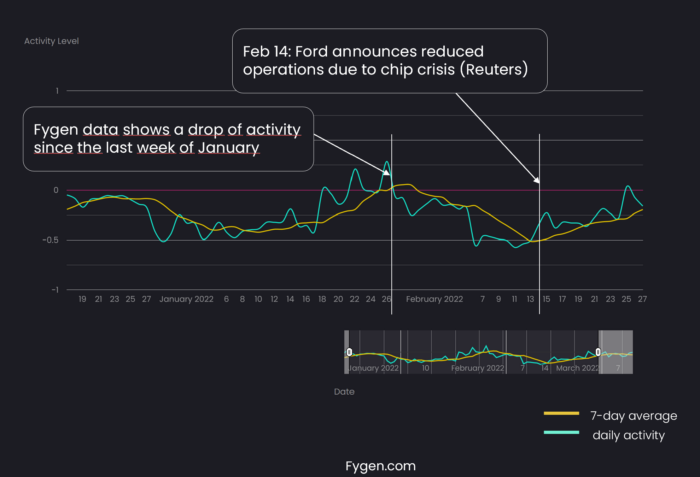 Photo: Ford / Ford E-Transit