Uncategorized
Boeing Renton: Geodata confirms increase of orders
German industrial intelligence provider Fygen.com has observed a more than 3-fold increase of factory performance starting from the end of April, where the activity level has already stayed low in the past year.
More recently, a further increase of activity level has been seen since the beginning of June 2022.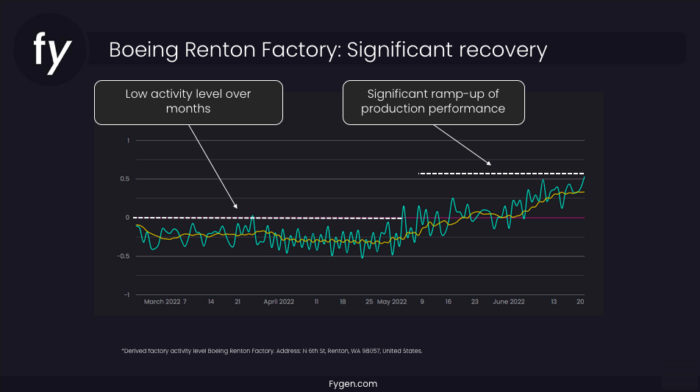 Comparing the orders and delivery reports from Boeing (NYSE:BA), the company had 40% fewer orders in Q1 2022 compared to Q1 last year.
However, despite an unsatisfactory number of orders in the first half of 2022, a doubled number of deliveries has been observed in the first two months of Q2 2022, compared to the same period in 2021. Fygen factory performance monitor confirmed the findings, revealing a significant ramp-up of activity level and projecting satisfactory overall deliveries in Q2 2022.
To closely track its real-time development, German industrial intelligence data provider Fygen.com offers an exclusive and comprehensive monitoring service on the supply chain disruptions and insufficient orders. Mostly used by competitive intelligence professionals and financial institutions, Fygen's clients are monitoring 3rd party factories, 3rd party companies and whole sectors.
Fygen.com declares that, despite aiming to deliver the most accurate and reliable data, it cannot be excluded that observations in the data might be caused or influenced by other external factors, and hence any inaccuracy.
Fygen.com is the world's leading data provider for external factory monitoring. It helps its clients monitor the utilization rates, competitor factory performance, and activity levels of potentially more than 3 million 3rd party factories and industrial sites globally.
All data can be aggregated in order to gain a big picture. No matter if it is about a ticker symbol, a sector or any other kind of data buckets.
Key questions to answer:
How is a factory/company/sector performing in terms of output?
How has productivity developed over time?
Are there abnormalities in factory activity?
By using the platform, clients can:
Be the first to know about any trend in factory data
Predict upcoming developments
Make comparisons to any kind of peer groups
Production data is of top 5 economic indicators, but there was no real-time data available until recently. Fygen is set to provide an advanced alternative to Purchasing Managers Index (PMI) data.
Photo: Wikimedia