Power Transformers
JSHP Transformer is currently the largest producer of medium power transformers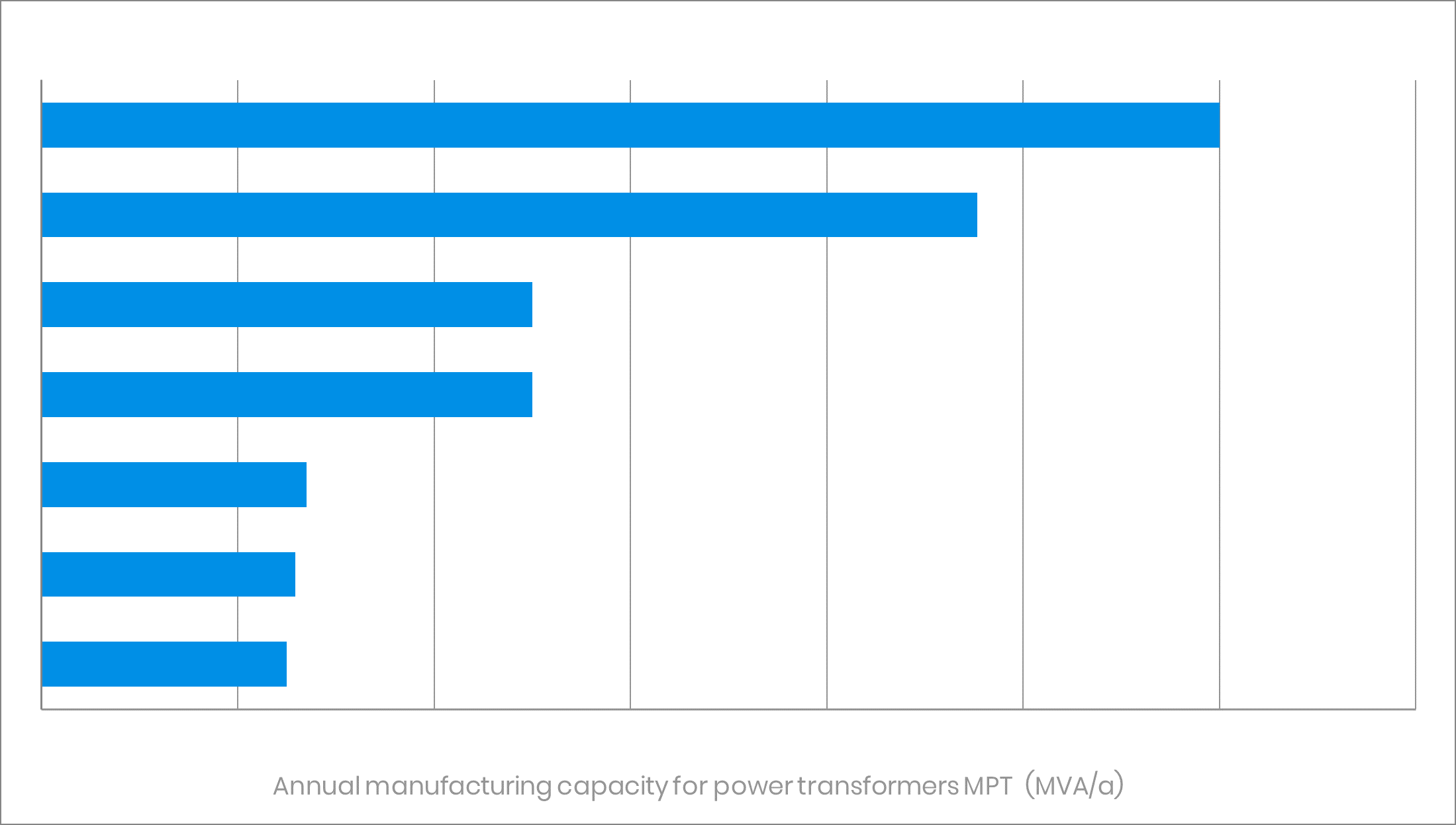 The Chinese engineering company JSHP Transformer is currently the largest producer of Medium Power Transformers (MPT) in the world with a manufacturing capacity of approximately 120,000 MVA per year (MVA/a).
According to the Germany-based business data provider Fygen, in 2nd place is the Swiss-Swedish company ABB, having approximately 95,000 MVA of production capacity per year and below them in the 3rd position jointly are Chinese firm Baoding Tianwei Group and Nanjing Liye Power Transformer Co., Ltd with 50,000 MVA per year. The shown manufacturing capacities include capacities for the production of Small Power Transformers (SPT) in some cases.
The companies in the other 7 positions, including their transformer manufacturing capacity per year, are shown at the graph above. The database provided by Fygen covers all power transformer factories worldwide for transformers > 1 MVA and is updated on a monthly basis. The tool is the one-stop solution for those who are selling raw materials to transformer manufacturers. It provides a complete and up to date overview of the market, which enables you to make perfect business and investment decisions.
For each factory, the following categories are provided: Country, Region, Size (SPT, MPT, LPT), Factory, Address, Types, Capacity up to (MVA), Voltage up to (kV), Annual production capacity (MVA), Annual GOES consumption, Quality standards, Updates and developments of the factory. It is possible to filter the factories by transformer size (SPT, MPT, LPT) and country.
Photo: PEO ACWA / Pueblo Chemical Agent-Destruction Pilot Plant Substation / Flickr / CC BY 2.0
Power Transformers articles
This
database
covers all transformer factories globally, including distribution transformers (>1 MVA) . The tool is getting updated on a weekly base. Watch the market, look for potential investors or targets for investments, sell supplies to transformer manufacturers and much more.
MORE